Converting an H-1B to an EB-5 Visa
Decisions and Requirements for Obtaining Permanent Resident Status under the EB-5 Immigrant Investor Program
The fifth-preference employment-based immigrant visa, sometimes known as the EB-5 visa, was created by Congress in 1990 to allow foreign investors to obtain permanent residence status through qualified investments. United States Citizenship and Immigration Services oversees the EB-5 program (USCIS).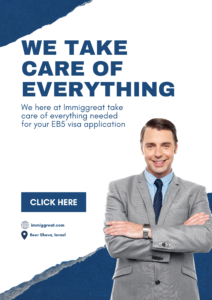 In general, an EB-5 investment must be made in a new commercial enterprise (NCE) that produces 10 full-time employment and supports the US economy. The investment must be sufficiently significant, and the investor must be sufficiently involved in the management of the firm.
The following is the procedure for acquiring a permanent green card under the EB-5 Immigrant Investor Program.
Invest directly or via an EB-5 Regional Center.
EB-5 investors can invest directly in an NCE or in a project sponsored by a USCIS-approved regional center. Regional centers provide investors with distinct benefits over direct investments in terms of employment development.
Only direct jobs can be included toward the employment creation criteria for direct investments, although indirect and induced job creation can also be computed for regional centers using established economic methodology. Furthermore, regional hubs allow EB-5 investors to readily combine their cash with other investors, allowing for larger projects and higher job generation margins.
Choose an EB-5 project
Whether investing directly or through a regional center, EB-5 investors should do extensive due diligence to ensure that a proposed investment is a suitable fit for them and that the regional center (if applicable) has a track record of success.
The EB-5 program requires investments in NCEs, which are classified as for-profit firms created after November 29, 1990 and engaged in authorized commercial activities. Businesses founded before to this date may be eligible for EB-5 investment if they have been reformed or expanded in such a way that their net value or number of workers has increased by 40%.
EB-5 investors can also opt to invest in struggling firms, which are defined as businesses that have had a net loss of 20% or more in the previous 12 or 24 months. For failed company investments, EB-5 investors are not obliged to generate 10 new full-time jobs; instead, the NCE must sustain employment at the pre-investment level.
The location of the NCE receiving the funding should also be examined. A targeted employment area (TEA) is defined as either a rural region with less than 20,000 people or an area with unemployment that is 50% higher than the national average. Projects under TEAs demand less cash from EB-5 investors.
Select a Qualifying Investment
Unless the NCE is located in a TEA, the minimum EB-5 investment is now $1,050,000. The minimum investment for TEA projects is $800,000.
USCIS requires EB-5 investors to either make complete and upfront commitments or to demonstrate that their cash is permanently committed to the venture.
Submit Form I-526 for the EB-5 Visa.
Once an investor has completed the process of investing funds in an EB-5 project, Form I-526, Immigrant Petition by Alien Entrepreneur, must be filed to USCIS for approval.
This petition and supporting documentation must demonstrate that the investor has invested the appropriate amount of capital in an NCE that will generate or maintain the necessary jobs to meet the EB-5 program's employment requirement, and that the investor will be sufficiently involved in the management of that enterprise.
For the purposes of the EB-5 visa program, adequate participation includes either direct, day-to-day administration in the NCE or a role in its policy formation. NCEs are frequently formed as limited partnerships, in which case EB-5 investors are regarded adequately committed by virtue of their participation as limited partners.
USCIS also demands detailed proof demonstrating that the investor's money was received legally.
Obtain Conditional Permanent Resident Status
Once the I-526 Petition is granted by USCIS, the foreign investor must apply for an EB-5 visa (green card). For investors residing outside the United States, this entails submitting Form DS-260 to the U.S. National Visa Center and being processed through the U.S. consulate or embassy in their home country. Investors who are lawfully existing in the United States under a different immigration status must file Form I-485 to alter their status to conditional permanent residence.
The EB-5 program allows investors to get green cards for themselves, their wives, and any children who are unmarried and under the age of 21 at the time they file Form I-526.
The status granted to EB-5 investors at this level is conditional and only valid for two years.
Maintain the NCE and Investment During the Conditional Period
For the requirements to be lifted at the conclusion of the two-year conditional period, the investor must be able to demonstrate that the NCE he or she invested in, as well as the investment itself, were maintained throughout this time.
Travel Abroad Should Be Restricted
Permanent resident status is predicated on actual residency in the United States. If the government thinks that a permanent resident does not plan to live in the United States, his or her status may be withdrawn. Permanent residents may generally go overseas as long as they spend at least six months each year in the United States.
I-829 Form
At the completion of the two-year conditional period, the EB-5 investor must file Form I-829, Petition by Entrepreneur to Remove Conditions. This petition must be presented within the last 90 days of the two-year timeframe.
The goal of Form I-829 is to demonstrate to USCIS that all of the conditions of the EB-5 visa program have been satisfied. As a result, the petition and its supporting documents must clearly demonstrate that the requisite amount of money was invested in an NCE that really produced or maintained the needed number of jobs to fulfill the employment criterion.